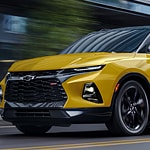 The Chevrolet Blazer is a mid-size SUV that offers great technology features, an attractive exterior design and versatile capability features. As a Mendota Chevrolet shopper who needs a new SUV with fantastic capability, then our team at SCHIMMER CHEVROLET BUICK, INC. believes the Blazer may suit your needs.
Towing is one area in which you will not have any issues when driving a Chevrolet Blazer. This SUV is capable of towing as much has 4,500 pounds behind it. This means that the Blazer is a powerful enough SUV to haul either a trailer or a boat along local roads. When combined with its 64.2 cubic feet of cargo space, the Chevrolet Blazer will not make you leave any belongings behind.
The Blazer can be equipped with two highly capable engines: a 3.6-liter V6 engine and a 2.0-liter turbo 4-cylinder engine. The automatic nine-speed transmission also pairs remarkably well with either all-wheel-drive or front-wheel drive.